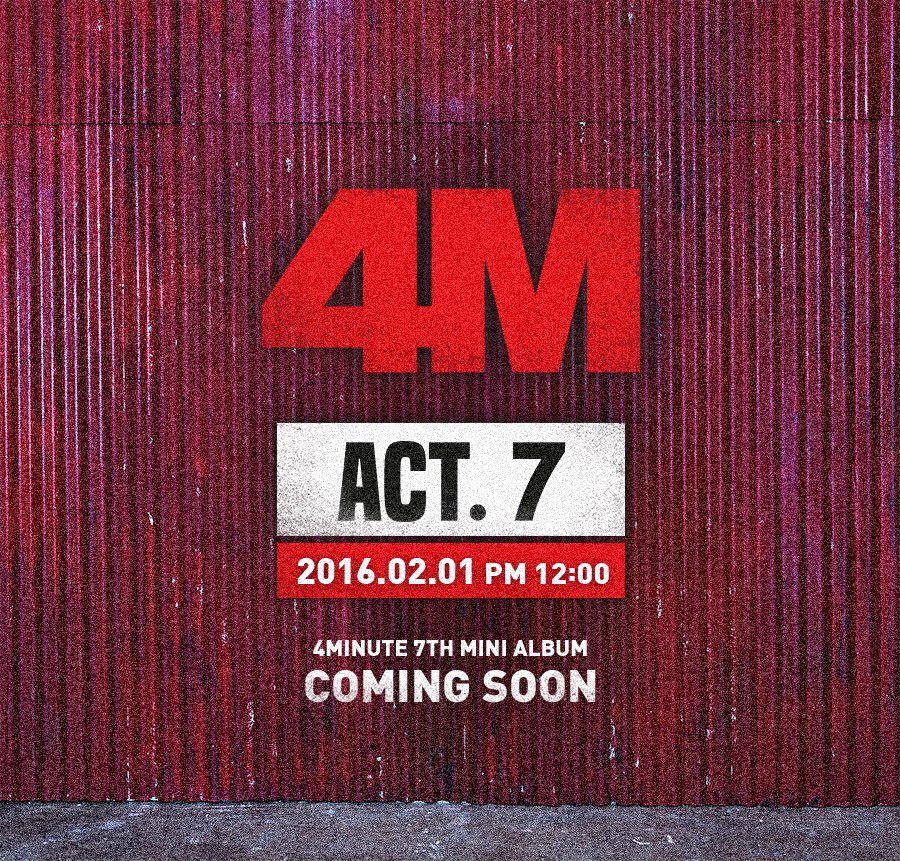 I'm
so
excited that
4Minute
are finally making their comeback after almost one entire year since their last promotions with "
Crazy
" (which you should all know by now that I adored), and they just dropped a first teaser image with a name and a date; "
Act 7
" on February 1st. Already I'm enjoying what I'm seeing, as the name itself sounds pretty cool and judging by the image only it looks like they'll be going for a strong concept this time around too. What is funny though is that on the exact same date
Winner
is releasing their comeback mini album, and as you know I've been looking forward to theirs just as much if not more, considering it's been even longer since their last promotions.
Without a doubt this will be the first real battle of 2016, as January has been awfully empty on releases so far (leaving me with less posts to write, explaining this blog's recent sparseness), and although I don't like it when fans take these battles
too seriously
and start badmouthing the other groups a little rivalry is always fun. Especially since these groups are so different from one another (unlike the girl group battle last summer) and their fanbases are totally different it will be exciting, but there are some unpredictable similarities as well. Both groups are heavily involved in the making of their respective comebacks, as the boys of Winner have been actively participating in the songwriting and composing and the ladies of 4Minute both in songwriting, performance crafting and styling.
Now there's less that two weeks to go until what I feel like 2016 actually kicks off with comebacks and new releases, and I can't wait!