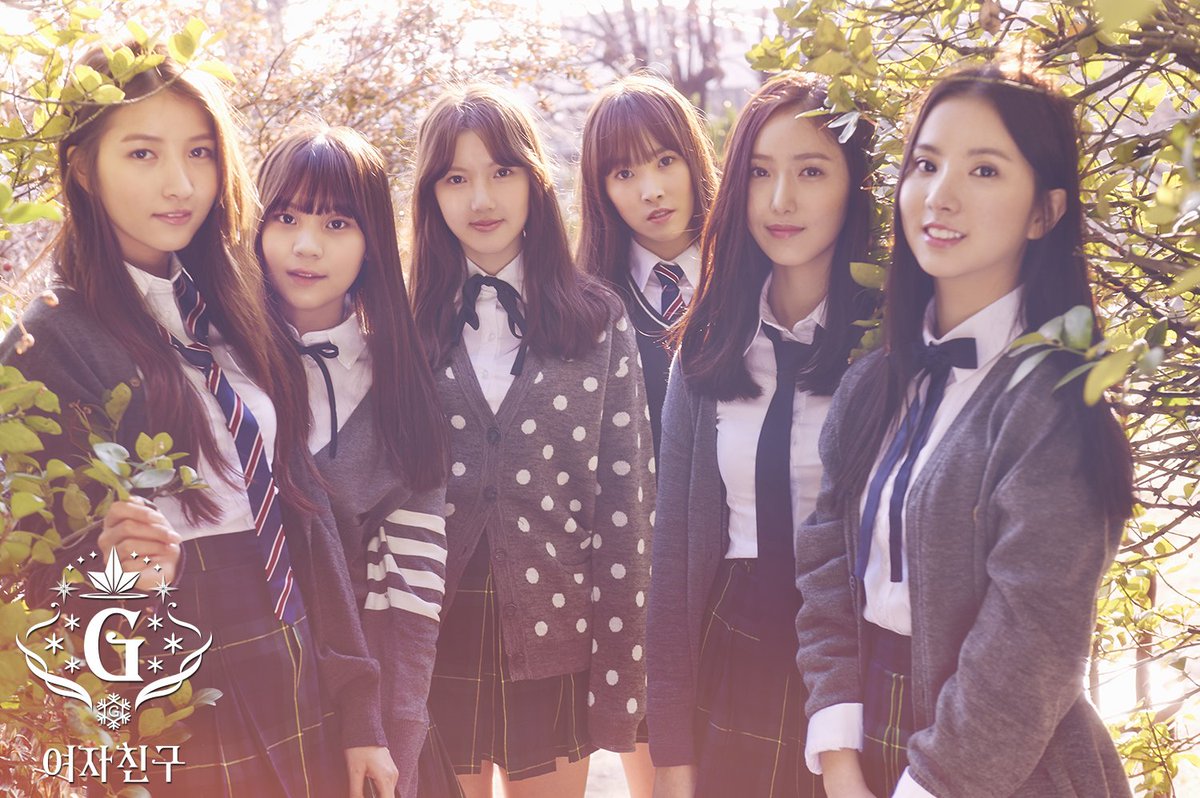 It's highly fascinating that
GFriend
recently celebrated their one year anniversary, and that their debut song "
Glass Bead
" was released an entire year ago when it feels just like yesterday. I still remember it all so clearly, and I have
this review
to help me recall what I first thought about them, which wasn't all fun and games. However my perception of them quickly changed when I understood just how talented they were (and how awesome their songs were) but most prominently how high they set the bar for live performances for rookie groups. So when "
Me Gustas Tu
" dropped later during the year I was already 100% sold, and they're climbing up my bias list with every new performance I watch of them. This means that
of course
I was excited for their new comeback, and if you wonder whether I think they brought it this time again? Yes, yes and yes again.
"
Rough
" is, simply put, a song that you could immediately hear was a product of this group, and at this point in their career I think it will serve as a benefit for them. They're still new on the scene, despite them gaining more recognition during the second half of 2015, and thus they still have to solidify an identity as a group. I know many people will think this song sounds way too much like their other promotional singles, and I agree that in certain parts of the song I do almost hear a bit of "Me Gustas Tu" or "Glass Bead", but the aura and vibe of the song is quite different.
Their other title tracks (and B-sides too for that matter) have all sounded sweet, innocent and definitely more cutesy, but this one definitely has more of a mature, grown-up tone (and the J-pop influences are stronger than ever). Since it's a song that's being released in winter time, a season of melancholy, sadness and nostalgia (thus the many sad, seasonal ballads), the song has included some of those elements, with nostalgia being the penetrating force.
From what I've read this comeback concludes the trilogy of releases surrounding GFriend as schoolgirls and classmates, and now that I'm looking back at the other two I do see a pattern forming. "Glass Bead" was, of course, the beginning, as we saw the girls in class together; both getting in trouble and helping each other out, and we could tell that they were all friends.
In "Me Gustas Tu" they go on a trip together in the summer time, and the entire video is basically just them having fun together and strengthening their bond as a group. This concept of friendship between classmates in their MV's is, from my part, extremely appreciated because female friendships aren't highlighted at all in the same way male ones are (with bromance and all that stuff), and "Rough" probably centers the most around that core of love and care for one another.
From what I can tell most this MV takes place after their graduation, and we see the girls in different stages of their lives, moving in different directions. Yet they still think about the times they spent together, and how they regret not appreciating each other more back when they had the chance. The lyrics of the song are very thoughtful and moving, as they regretfully sing about how they weren't able to tell each other how much they actually loved one another.
Most of the video revolves around them reminiscing about the past and generally just missing each other and the past, as they wander around their old school and dwell on the many memories made there. Whether the song is interpreted as to being about a past romantic interest or a friend I think many people will be able to relate to it, as you unfortunately you often don't realize how much you love someone until they're gone. The MV does have a happy ending though, as the girls realize they don't want to drift apart and lose each other and meet up to spend some quality time together going through old notebook entries and photographs. Therefore what this video does, despite being beautifully to look at, is making you think and above all it makes you
feel,
because I know at least I started thinking of some friends from my younger school days I've lost contact with.
Apart from the lovely message this video is incredibly pretty too, and is probably their most natural video to date. What I mean by that is that it looks the most realistic and all the locations are genuine and appropriate for the concept of the video. Not only that but the scenery is quite beautiful to look at as well, with a lot of well chosen locations that provide beautiful architecture and add a little something extra to the story.

I definitely think this their prettiest video so far by that criteria, and the snowfall that's added in makes the entire video feel even more sentimental and bittersweet. Even the color palette is more toned down and natural, compared to the excessive brightness and saturation that haunted literally every girl group MV last summer. This is what you would call a comeback suited for the season it's released during, and GFriend does that while still sticking to their own sound but at the same time adapting it for the occasion, and that's very impressive. Like what I mentioned before with the song itself, the MV also feels as it could have been a J-pop video and although other having been saying this before about their earlier releases I didn't really see it until now. I do like it though, I like it a lot.
Like always with this group I look forward to what choreography they might deliver, and this time it looks amazing once again. Unfortunately this video focuses less on the actual dancing to make more room for the plot (which I honestly shouldn't complain about), but the parts that were included in the MV looked interesting to say the least. Since the group held their showcase on Monday a first live performance of the song was recorded, including the full choreography, and I can tell you right now that the MV does it no justice at all. In true GFriend fashion the routine is amazing, and like always they hit the moves with such sharpness, power and intensity.
I know I've said this before but the fact that this group, that's both new on the scene and practices an "innocent" concept, has these kind of choreographies is not only super impressive but also extremely important. It's no secret that the male groups out-perform the female ones by miles, but here we have GFriend; proving once and for all that girls are just as talented when it comes to dancing. Not that I personally ever thought anything else, but in the K-pop scene much more value is placed on the girls' appearance than the boys, who are rather valued for their skill and hard work. Girl groups aren't usually allowed to excel as much in dancing because they have to look cute or sexy all the time (and wear high heels), so GFriend breaking those boundaries is hopefully something that can change that.
As a whole I find this comeback very satisfying, and it appears South Korea agrees as the song debuted at #2 on the charts and is, as I'm writing this, still in the top three which is an amazing feat for a group that's only a year old. The reason for this success story is simple; they're just that good. I personally love this new song and although it sounds similar to their other singles it doesn't matter that much because it's a still a really catchy tune. Additionally I think that as a third and final installment of their school girl trilogy
it couldn't have been done better, and it rounds up GFriend's first year as an idol group perfectly. I couldn't be more proud and more happy for them, and can't wait to see what they will do next.
Song:
4,25/5
Video:
4,4/5