I'll always have my biases (Jonghyun, Nana, Seohyun, Sunggyu, Yunho being the most prominent ones), and while some of them change from time to time most of them stay the same once I've actually settled on whom I like the best. This year quite a lot of new groups have debuted, so naturally I have gained a few more biases along the way (whether they're temporary or permanently I can't say yet), and that goes for established groups as well. To put it simply; here are the people that have captured my attention the most in 2015! (I might do an
actual
bias list later though, do you think I should?)
BTS' Jimin
Although I love all of them in different ways (no seriously, picking a bias is next to impossible with this group), my eyes have definitely been set on this particular boy during 2015. He's just the total package; attractive, talented in both singing and dancing and a total sweetheart, but I would be lying if I didn't say his sexy body rolls and godly shaped thighs and arms didn't have anything to do with it. The fact that he also has the cutest, squishing face of all time makes me so confused and sexually frustrated, but I wouldn't have him any other way.
Red Velvet's Seulgi
If you remember at their debut I was absolutely infactuated with Joy and loved everything about her, and in my "Most beautiful female idols" Seulgi was the only red velvet member not to be featured. However, somewhere this year (I think around their "Dumb Dumb" comeback) something changed. I have no idea how and why, but suddenly I was crazy about everything about her. I guess I just realized how talented she actually is, both as a dancer and singer, and what a cool girl she is. Not to mention I have fallen completely in love with her looks as well, and her trademark monolids.
Oh My Girl's Arin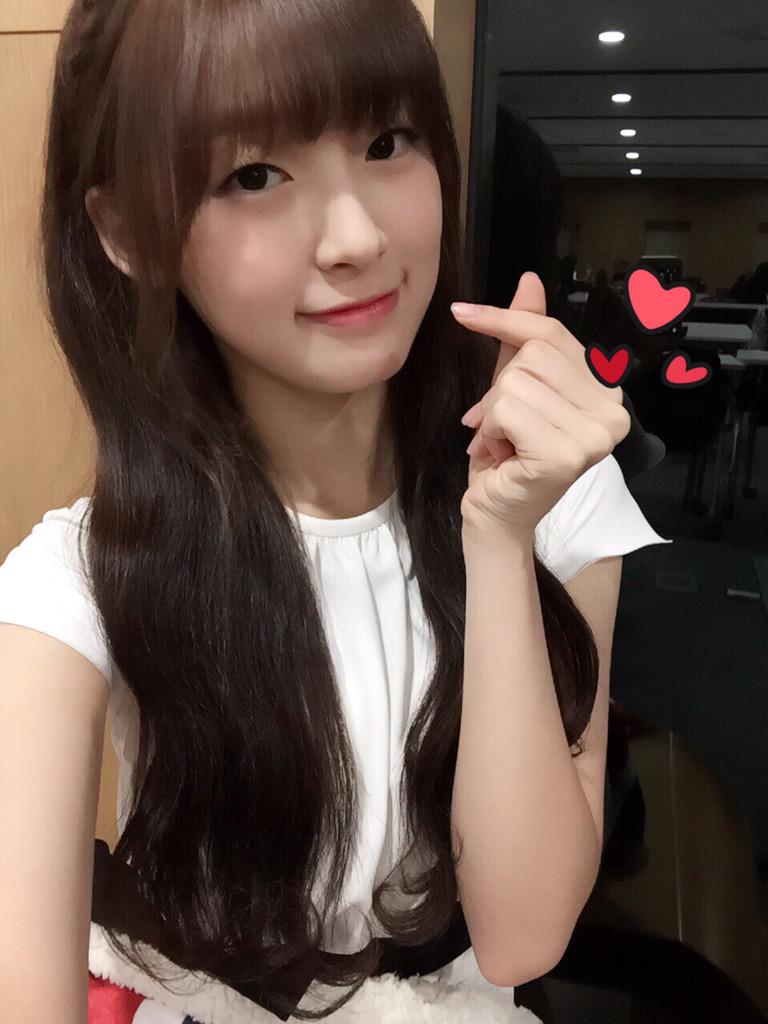 I honestly don't know much about Arin, in fact I don't know the members of Oh My Girl very well at all when it comes to their personalities, but with their comeback with "
Closer
" I couldn't keep my eyes off of her. Like Seulgi she has single eyelids and I think it's extremely charming and super cute, and she definitely seems to have a cute personality as well from what I've been able to tell. I think this one will mature and grow up beautifully, and she sure has time to considering she's only 16.
Got7's Mark
When Got7 debuted Mark was probably one of my least favorite members, and remained in that position for pretty much all of their first year. I didn't find him attractive at all, and he's lack of rapping skills made it even harder for me to get into him. However this year I've been
obsessed
with him. Although his rapping hasn't improved much (unfortunately), he's suddenly become annoyingly attractive and I'm in love with his smile. Overall he seems like such a chill, relaxed guy that would be pretty easy to get along with, and that certainly adds to his charms.
f(x)'s Krystal
Oh my, what do I even say about this princess? You guys know I've always loved Krystal as she's been my bias for about two years now, but this year my love for her has truly shot through the roof. I honestly don't think it's healthy how much I adore this young woman, and I'm sure everyone can agree that her aura and unique visuals are one of a kind. She just mesmerizes me every time I see her, especially during f(x)'s performances, and despite people claiming she's "cold" she's actually a really, really sweet girl.


AOA's Hyejeong
Last year it was
Mina
who held my heart, but this time it's the one that's forever standing in
Seolhyun's
shadow; Hyejeong, who should be given half the spotlight but is left with practically none. I honestly don't understand why, because her visuals are no joke. She has a gorgeous face with a beautiful smile and cute and chubby cheeks, and not to mention her tall body and long legs. On top of that she's such a lovely person, and I'm really anticipating her breakthrough because she definitely deserves it.
Day6's YoungK
When Day6 debuted I was blown away, to say the least, and there was one member in particular that stood out to me right from the start. YoungK, or
Brian
, or
Younghyun
(whatever you prefer) caught my eye right with their debut MV, and while watching their live performances I fell even more in love with this multi-talented guy. I just
love
watching him on stage as I feel he's one of the most interesting ones in the group to see perform, and you can tell how much he loves it. Not to mention he plays several instruments, can sing
and
rap and has the most gorgeous smile ever.
Girls' Generation's Sooyoung
Another idol that I've always loved is Sooyoung, who I think is one of SNSD's most beautiful members and have thought so since I got to know the group, but this year has been her year to shine for sure. Cutting off her long hair (which I admit I liked as well) was one of the best decisions she could have made because it flatters her like no other hairstyle. Additionally was the pink color she rocked during "Party" amazing, and I love her sense of fashion. Of course she's talented and funny as well, but you all know that already.
What were some idols (biases or not) that caught your eye the most during 2015?