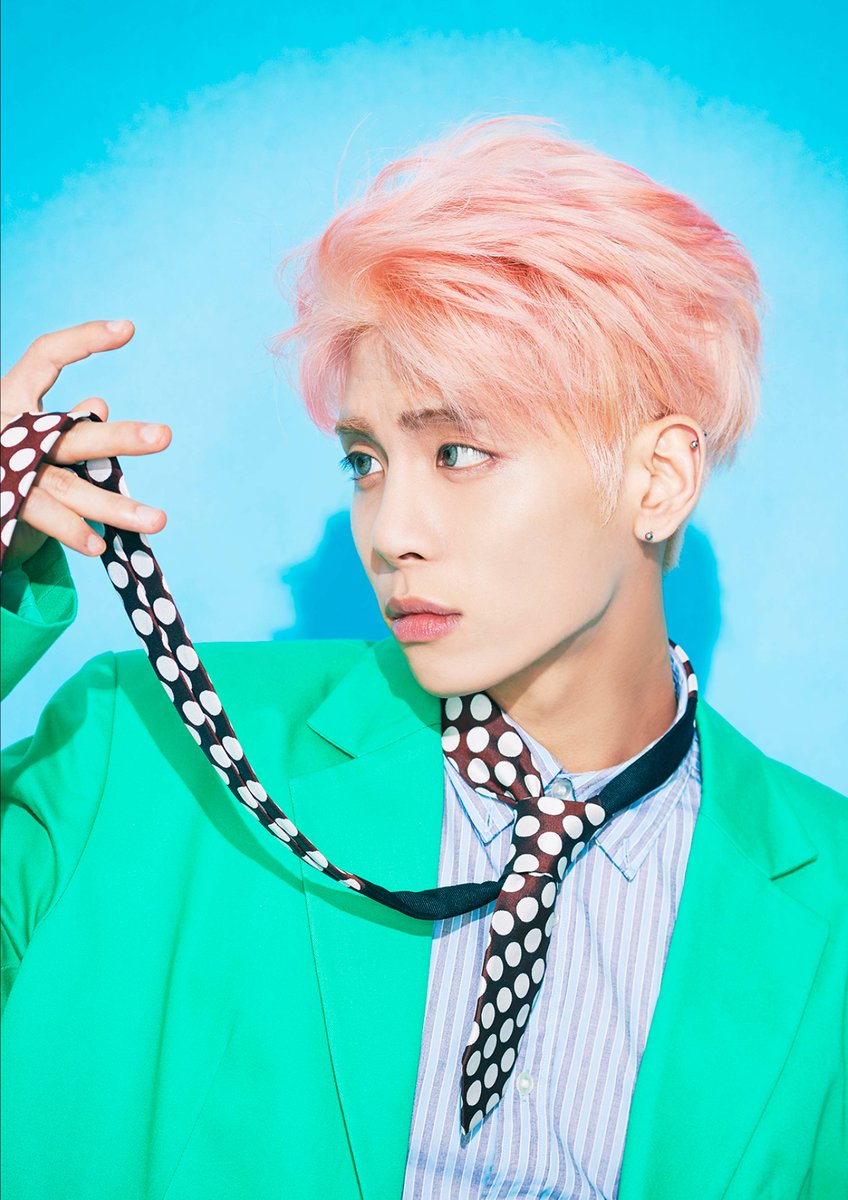 Solos for everyone! Hooray! These past two months two
very
awaited idol group members have been making their solo debuts, and one has been following up his successful one from last year with a first comeback. Yes, I'm talking about
Nam Woohyun, Jonghyun
and
Luna.
All of them are great vocalists but have very different styles and images, and all of them are people I truly respect and admire. Jonghyun is as mentioned currently promoting his first full album "
She Is
",
Nam Woohyun
has been blowing everyone away with his vocals in "
Still I Remember
" and Luna is getting to show off just talented she is with "
Free Somebody
". Three very different artists with different sounds but all of them great in their own special way.
Infinite's
ballad prince and grease king Woohyun was first out with his solo debut on May 9th, and I think I speak for all
Inspirits
when I say
FINALLY.
It's about time Infinite's power vocalist got his own solo, especially considering fellow main vocalist
Sunggyu
got his all the way back in 2012. Without even hearing his music I was on board and I was so happy he would finally be able to show people just how good he is and how much he is capable of. As I could easily tell from the teaser pictures this wasn't going to be a dance-pop album and I was very much correct in that assumption. The title track "Still I Remember" is a gorgeous OST-like ballad that allows Woohyun's magnificent voice to take center place.
You can always count on Woolim to have a slightly larger-than-average budget for their MV's, at least as of recent years, and this one is no exception. Filmed in Japan, the video for "Still I Remember" features
gorgeous
scenography that along with the stunning lightning and camera work gives it a very dreamy feeling. The scenery definitely adds to the positive impression of the MV, but the beautiful yet tragic storyline along with the heartbreaking lyrics of this song makes this a very emotional viewing experience. It's a story of boy meets girl - boy falls in love - boy loses girl, and although it sounds plain this MV is everything but that.
It's beautifully planned, shot and edited and Woohyun's acting is actually quite painful to watch (and I mean this as in it hurts my heart to see him so devastated). The way the story is told not only through Woohyun's perspective but also through a camera lens of the camera she's seen carrying around wherever she and Woohyun go anywhere together. This adds another dimension to the video and keeps it from becoming predictable, but even if it hadn't been I don't think I would've found this video boring at all.
It could just be my love for Woohyun that's speaking but I genuinely think this is a great debut that fits him and his image perfectly. He gets to sing his heart out, do some emotional acting and look beautiful doing it, and I couldn't really ask for more. However you might call me a bad fan considering I haven't listened to his mini album "
Write..
" even once, but the thing is that I'm not a ballad fan and I don't think I could handle an entire album of ballads even though I adore this man. I do love "
Everyday
" though, which was included on the physical album, but that's as far as I'll go. I still love you though, Woohyun!
Song:
3,5/5
Video:
4,25/5
My one and only
SHINee
bias Jonghyun (whom I sadly didn't get to see at KCON) made his first ever comeback right near the end of May with full length album "
She Is
" and a title track with the same name. As you know with Jonghyun's debut last year I was excited for him but the music he wants to make generally isn't my cup of tea, and I have no shame in admitting that. You can't love everything, even if it's your bias' music. However I do still support him in is ventures as a solo artist and songwriter, and with "She Is" I feel like he's further established what his signature sound is and I'm actually quite pleasantly surprised with both the title track and the album. Although the song "She Is" took some time to grow on me I can now jam along to it quite well, despite me not necessarily wanting to add it to my K-pop playlist.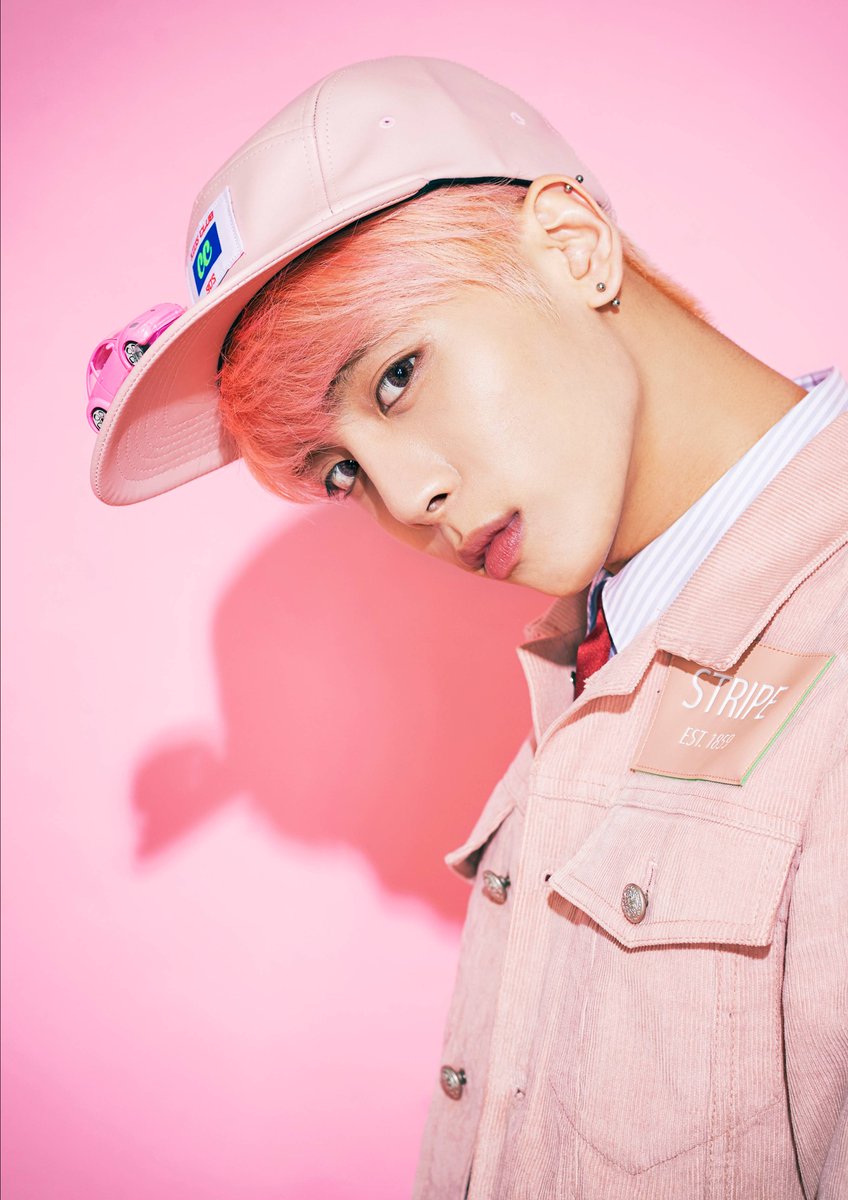 It has that funky R&B sound that I know Jonghyun loves and that also made up most of his debut mini album "
Base
", and it's a sound that I know is quite popular in Korea as well. It plays well to his strengths as a a vocalist and fits his personality, and he even gets to do some semi-rapping which actually doesn't sound half-bad. The video is very unique as well and is quite the contrast to the dark and angsty "
Crazy
", because this one is extremely bright, colorful and makes absolutely no sense whatsoever.
It appears as if Jonghyun works in a booth at a construction site, but that's about as much as I understand. It's not necessarily a bad thing though because it seems like this abstraction is intentional and that's it's not supposed to be very logical, which just makes the video fun and interesting to watch. The overly high saturation is bit painful for the eyes though but Jonghyun looks good anyway and I love watching him dance even if it's just a very easy choreography like this one. He's cute and happy and that's all I care about.
I did give his album a listen too as I had heard good things about it (and I can generally tolerate R&B tunes better than ballads; sorry Woohyun) and I was actually pleased with it although I might not love all of the songs. I find that it flows much better than his last one and is coherent without the tracks sounding to similar to each other. My favorite songs are definitely "
White T- Shirt
", a fun dance-track with a catchy tagline and melody, and "
Moon
" which is a smooth and sexy slow track with lots of sensual falsetto parts. Speaking of which I realized that although I like Jonghyun's voice in SHINee's songs I actually find it a bit difficult to listen to
only
him for nine tracks straight, and I think that it has more to do with personal preference than anything but still, it's an observation I made. Nonetheless I think this album is a solid release from him and is totally in line with the idea I have of him as a musician, and I think the will only continue to improve.
MV:
4/5
Album:
3,8/5
Although I said I've been looking forward to and anticipating Woohyun's solo debut for years
Luna's
solo is one I had only been
wishing
for as I could easily have imagined it never happening. Luna isn't exactly the most popular member of
f(x)
, which is ridiculous in itself since she's
so
amazing, and
SM
doesn't exactly tend to care for those members as much compared to the most popular ones. So when I heard the news that
was
indeed going solo I was over the moon. As with many other main vocalists going solo much of the focus is placed, naturally, on the vocals, and sometimes even more so than to put out a good or interesting song. I was afraid this would happen to Luna as well and she would end up with a ballad or some sort, which would be wasting her dancing talents, but thankfully that isn't the case. Instead she dropped "
Free Somebody
", a wonderful dance track
with
incredible vocals.
Everything about this release is just right up my alley; from the song, music video and concept. Luna's talents seem to be never-ending and it's very impressive how the song manages to showcase her voice but doesn't overdo it and provides her with a chance to dance as well in the song's many instrumental breakdowns. "Free Somebody" could've easily been a song on "
4 Walls
" with it's retro house influences, but at the same time it also feels like this is
Luna's
song because she does make it her own.
The melody is superb, the beat is infectious, the production quality is sky high and you can tell Luna is having a lot of fun with it. Same can be said for the trippy video that is colorful, dreamy and wonderfully modern retro. Half of it is actually in animation which definitely gives it a unique feel, and the storyline is incorporated in a very clever way. Overall it's a great, great video with a great song and Luna is just brilliant.
I would like to mention her mini album too, also called "Free Somebody", which continues down the line of the title track with electronic pop songs in all kinds of flavors. It's a very coherent album with both slower songs and uptempo ones, and of course Luna sounds amazing in all of them. However I feel like the high quality shouldn't be very surprising considering f(x) amazing discography, but it's still worth praising. My favorite songs apart from the glorious title track is the beautiful "
Breathe
" and the poppy dance track "
Galaxy
". If you haven't listened to her album yet I seriously recommend checking it out.
MV:
4,15/5
Album:
4,25
I know this post is long overdue but here it is better late than never! What you think of these recent solo releases? Whose is your favorite?